History of Our Fight for Safe Staffing
The History Behind Our Historic Fight
On May 4, 2021, the New York Legislature passed a package of bills to directly address the longstanding crisis of staffing levels in the state's hospitals and nursing homes. 
But what may seem like a straightforward response to the Covid-19 pandemic raging at the time of passage, was really the result of decades of blood, sweat, tears, and organizing.
In the legislative arena, CWA submitted its first Safe Staffing bill more than twenty years ago. But for some of us, the fight goes back even further through collective bargaining: back in 1985, we negotiated our first staffing committee language in a contract. That's 37 years ago, spanning over 13 collective bargaining agreements.
Despite some progress at the bargaining table, management would never agree to the single most essential solution to the problem: nurse-to-patient ratios. And so a legislative campaign, made up of a coalition of healthcare workers from across the state, emerged as the best course of action because we know that Safe Staffing Saves Lives.
The Campaign for Safe Staffing
In 1999, after a nearly decade-long battle, the California Nurses Association successfully lobbied their state legislature and won A.B. 394, which mandated minimum staffing ratios in California's healthcare facilities. With that historic precedent set, we filed our first Safe Staffing legislation in New York in 2001. And what began as a campaign for ratios of nurses to patients soon expanded to ensure other direct caregivers such as nurse's aides, medical assistants, unit secretaries, and more were included.
Fast forward to 2016, when the bill passed the New York Assembly for the first time but failed to pass the State Senate. Despite the clear need for staffing ratios, we still faced massive opposition from the Greater New York Hospital Lobby—the single biggest spender on lobbying in the state and the Healthcare Association of New York State.
By 2018, the issue had reached a boiling point. The Governor and Legislature at the time agreed to require the Department of Health to "study" safe staffing for the purpose of agreeing to ratios. But by August of 2020, the study arrived more than 8 months late and sorely lacking in any real recommendations or actionable solutions. Not to mention that we were now waist-deep in a global pandemic that turned a festering crisis into a five-alarm fire.
As healthcare workers were being lifted up as heroes at large, they were facing unimaginable and unnecessary stresses in the workplace with little support from the State. Passing safe staffing legislation was more important than ever, as the ratios had never been worse. Decades of activism and advocacy from our members were finally coming to a head with the abject failures of hospital management and the State. It was clear: the legislature had to act.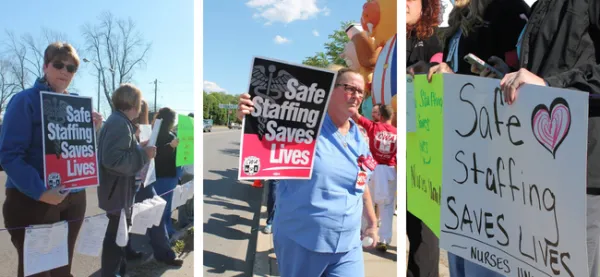 A Major Step Forward
After finally acknowledging what had been clear to healthcare workers for decades—that safe staffing saves lives—the legislature called together the three largest healthcare unions (1199/SEIU, NYSNA, and CWA) and the two hospital associations (GNYHA and HANYS) and proposed an ultimatum: one month to come up with a compromise proposal. 
After weeks of hardfought debate, these key players emerged with a piece of legislation that could be supported by everyone. The Safe Staffing for Quality Care Act finally created a solid path to real ratios—ratios that would include the entire care team, not only RNs. It established Clinical Staffing Committees, real enforcement against violations, and a level of transparency that hadn't yet existed between labor management. 
Was it everything we'd been advocating for over the past 30+ years? Of course not. But it put the power back in our hands to make sure that no healthcare professional ever has to suffer in silence, and that they can provide the best possible care for their patients. Because that was always the goal: a safe, sensible policy that protects patients and puts people over profits.